"Composing music for Igor Stanislas is all about melodic theme.  Born in France in 1966 and entirely self-taught, he turned his hand easily to musical composition both for images and for writing and performing with his own rock band Igor and the Hippie Land.  The last years of the 1980s saw Igor in London studios learning how to record and produce his own tracks – analogue recording seeming to him the best way of reflecting and retaining the warmth of the instruments – as well as studying closely the work of key anglo-saxon artists. He plays guitar, piano and bass and is constantly seeking to refine personal projects along with his musical culture generally, his ear very much to the ground regarding new technology.  For Igor music has no boundaries.A great admirer of American cinema and of its film scores, influences for Igor include the repetitive style of Philip Glass and also the master of the field, Enrico Morricone.  Moving on to instrumental and symphonic work was a natural step, therefore, sometimes neo-classical and intimate in style, sometimes nuanced by more of a rock, electronic sound, but forever in keeping with the "theme" method.  Igor enjoys working on all sorts of diverse projects, such as documentaries, soundtracks, contemporary dance music and animated film. "
Writer, composer and performer influenced by the Classic rock, jazz, pop, classical world music, American song writer, British pop, and Classical music.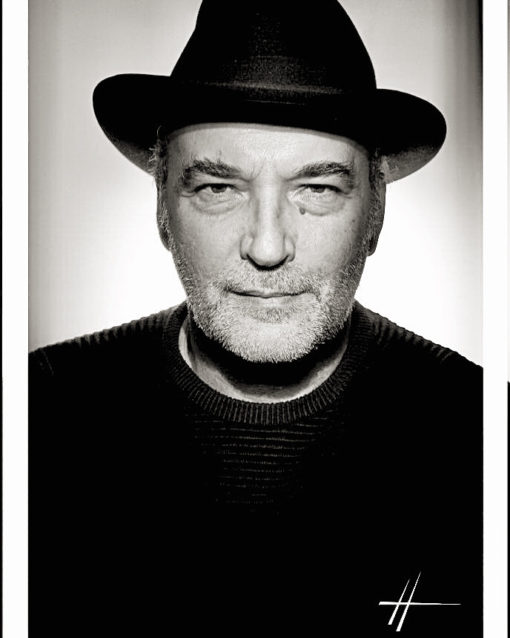 Photo © 2021. Studio Harcourt Paris
1986–1989   THE LONDON YEARS
Studied acoustic guitar, piano, bass guitar, harmonica and ukelele.   First groups  'Requiem' and 'Rose des Vents' established with childhood friend Emmanuel MacManus, including participation from Terry Lee Miall, drummer with highly successful London 80s group 'Adam and the Ants'.  First steps towards  concept album ' L' Opéra Bleu'.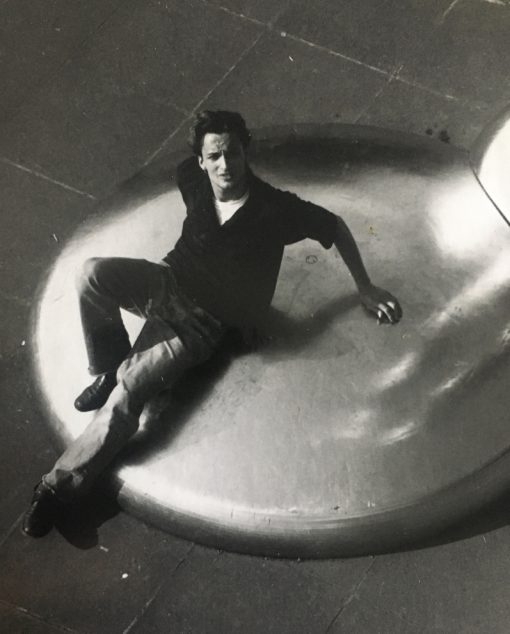 Anthology/essay:  'Premiers paradoxes', 'Du défi au destin', L'art infini au-dela des lois
1990 – 1996  PARIS
The band  'Rose des Vents' continues with Emmanuel Mac Manus on guitar and mandolin;  numerous concerts at  Le Gibus,  Le Palace, La Locomotive, and many other central Paris venues.
CD single: ' Walk Away ' extensive airplay on FM radio
Video: 'Animal',  tv channel MCM
1996 – 2002   PARIS "LA DUNE years !
'La Dune' – new line-up, new name, still with Emmanuel MacManus, Stephane Ride on drum;   numerous concerts throughout France
                                                           airplay: « Sous les Etoiles », Radio France Inter
video: 'Oh Lord', directed by Stéphane Jauny
CD album:  'Pourquoi tu me regardes?'                                                          
2003 -2006   PARIS
Extensive work on music for films, resulting in three volumes entitled ' 'Soundtrack'
New group 'Alaska' formed with Emmanuel MacManus a short lived project
2004-2010
'L' Opéra Bleu' concept album released as dvd comprising four acoustic tracks recorded by Jean-Marie Migeot (Jacques Dutronc, Paul Personne) at Opéra de Paris Bastille rehearsal rooms.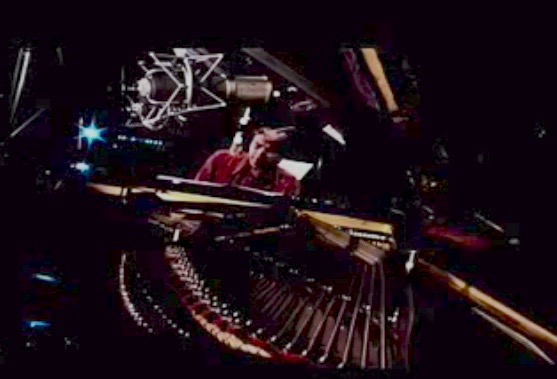 2008
'L' Opéra Bleu' performed regularly at central Paris venues with video projection back-drop.
2009
Continued collaboration with Jean-Marie Migeot on recording of 13 tracks under the name of  IGOR AND THE HIPPIE LAND.
2010
'L' Opéra Bleu' changes its name and becomes 'Dragonfly'. and a IATHL version sung by Igor in french.
2011/2012
Recording in Paris of new Igor and the Hippie Land rock/pop album, mixed by Mako (Arno, Marianne Faithfull, Etienne Daho, Jane Birkin) and mastered in part by Ted Jensen, (Coldplay, Billy Joel, Norah Jones, Eric Clapton) at legendary 'Sterling Sound' studios in NYC with Ted Jensen.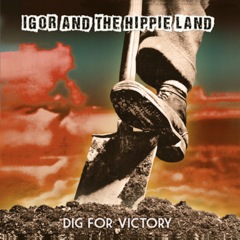 Igor released with his band "Igor and the hippie land" a new LP "Dig for victory" with English friend Claire Gristwood for the lyrics. he played the bass, piano, guitars and sung.
He works with string arranger Arnaud Debuchy for orchestral part.
In December 2012, he set up new composing for major movie score idea…
Always working in progress on music for films, notably 'Dracula' project from the  novel by Bram Stoker.
In June 2012 Igor Stanislas had recorded on studio with an orchestral for film Coeur de Sahel" named Heart of life with chef Jean Philippe Carboni and arranger Arnaud de Buchy.
He is also on work for documentary with Director Olivier Taieb for a film about the city of Drancy also a short movie advertising for Laguiole en Aubrac by Stéphane Jauny. here the videos
Igor had recorded a music part for Contemporary Ballet duo of french choregrapher Quentin Rouillier who did work with famous dancer and choregrapher Carolyn Carlson for new ballet call "Tonnerre" who went to show in New Caledonia in culturel Center.
Spring 2013 he received the Apple Logic 101 certificate
2014 Is the start of the  promotional album Dig  for dig for victory Lp with live, radio play list  (Steve Lamacq show on BBC6) a showcase at Paris famous record shop Gibert Joseph .
He is preparing new songs with his band Igor and the hippie land for a new LP for 2015.

Igor is recording with orchestral in Studio La Seine in Paris for short movie in training "Recording, mixing with orchestral for films"
He's also went to a new collaboration with documentary film maker Olivier Taieb for 52mn new project.
The 7 of May Igor start the recording of the next new album of Igor and the hippie land in Paris, and will be on live concert at LA Java in Paris in May 2014.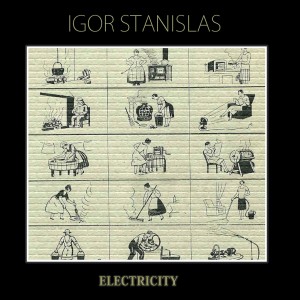 In 2014 Igor release a 5 tracks recorded with an classical musicians for his new album and solo work  ELECTRICITY with no sample used.
In 2015,
Igor has released with his band IATHL a EP "Disappearing world"(vinyle + download cards) with friend's lyrics Claire Gristwood.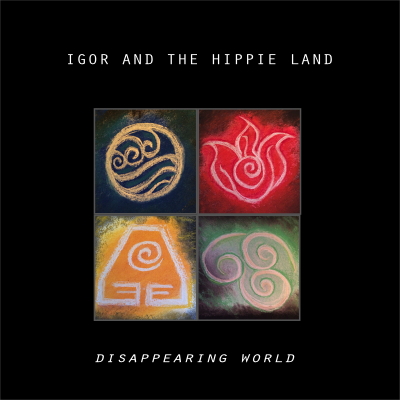 it is a Igor's contribution fo the future event of the "Climat conference 2015 COP 21" in Paris -France.a video will follow to watch clik here
For the first time The Hippie Land is played  on radio in a California station radio KSVY 91.3 with DJ John Myers.
Igor is working for commercials, documentary, and made severals trainings for orchestrals productions score and Computer Aided Music.
2016-2018
Igor has  composed 3 new album of epic, symphonic, ambiant music named OVIRI, IRM, Solar Impulse.
Igor made up the music of Vincent Corpet documentary  VOIR CA CA VOIR directed by Olivier Taieb.
in the same time with his fellows of IATHL, he has been selected to play at Mega Record & CD Fair
in Holland. in April 2017. In 2017  they released a new studio album Wonderful Circle on May 12. 2017
available on Modulor music and Itune.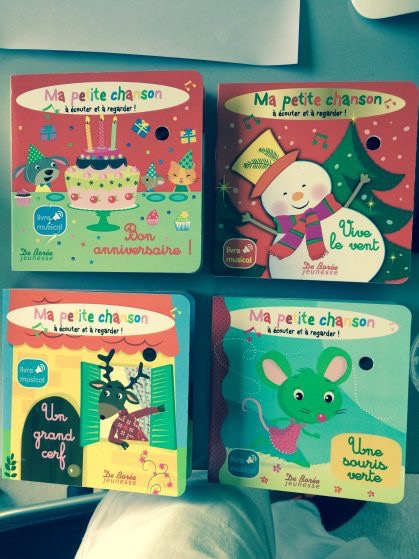 In 2017 until now he is working  for AUDIO children's book
with French editor Pimchou He produced all the music and singing sessions.
 GN-z11 is a galaxy. It is the oldest known galaxy and farthest-known galaxy from Earth.
Igor has composed a music for it in May 2. 2018
Igor does lots of voices over for documentary, films, animations and advertising
In October 2019 Igor and his Band IGOR AND THE HIPPIE LAND will release a 3nd studio album Love&Chaos mixed in England at Pound House Productions, run by Steve Tanton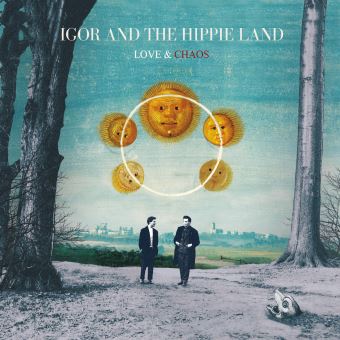 To date the band has played extensively in France, in Holland and -at the invitation of American dj John Myers at KSVY Radio – inSonoma, California, USA, including on air interviews, a video clip in San Francisco, plus local press coverage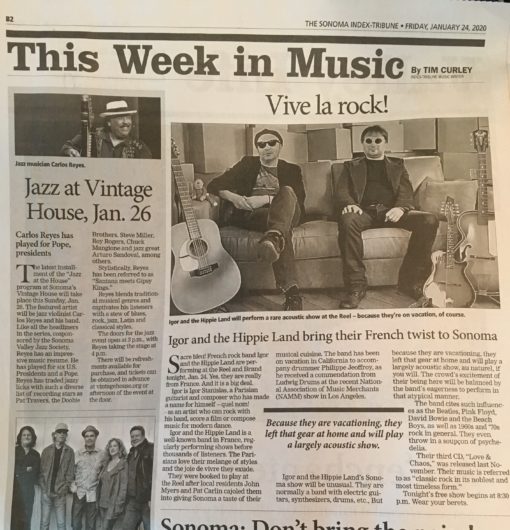 Global lockdown in 2020 saw the band take a more urban, electronic path,
resulting in a new album entitled '4', due for release at the end of 2022.
With the accent on some mighty symphonic arrangements and
extraordinary guitar, plus lyrics once again from London-born Claire, the
album '4' is dark, classy and very cool…